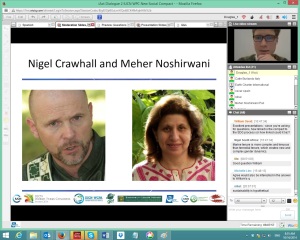 Introduction and Gratitude
The "iAct Dialogues for Sustainability" are interactive, global webinars that inspire intergenerational discussion and collaboration on sustainable planetary futures. Sustainability Leaders Network, Earth Charter International and the IUCN Task Force on Intergenerational Partnership for Sustainability organized a series of webinars in conjunction with the IUCN World Parks Congress (12-19 November 2014 in Sydney, Australia).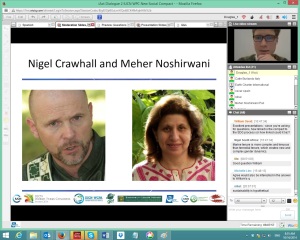 Many thanks are due to the iAct Working Group convened by Dominic Stucker and to young professionals from the Commission on Environmental, Economic and Social Policy (CEESP), who jointly developed the content, discussion questions and promotional materials for this first webinar in our IUCN WPC series. In addition to our speakers, CEESP contributors included Catie Burlando, Shalini Dhyani, Caroline Seagle, Rosanne van Shie and Melanie Zurba. Divya Venkatesh, Fayruz Mandil and Eva Liliana Ardila Cortes created and disseminated promotional materials. Fayruz Mandil, Douglas Williamson and Andrea Zubialde supported Dominic in moderating the webinar.
People of all generations from around the world were invited to participate for free. Funding that was secured by the World Commission on Protected Areas Young Professionals (WCPA YP) through an IUCN/UNDP/GEF grant and in-kind support made this webinar series possible.
Our Pre-Congress Webinar: "Global Contributions to the New Social Compact: Towards effective and just conservation of biological and cultural diversity" was held on Thursday, 16 October 2014. It provided an opportunity for participants to learn more about the New Social Compact (NSC) and offer solutions-oriented ideas to help ensure that biodiversity conservation and social justice are mutually supportive.
Presentations by Nigel Crawhall of South Africa and Meher Noshirwani of Pakistan were followed by engaged small group discussions on a set of carefully designed questions. Information on participants, speaker bios, links to video recordings and a summary of discussions are below, plus an evaluation of the webinar by participants.
Diverse Participants
Our 23 participants included 15 women and 8 men. Thirteen were university students or young professionals (18-35 years old), 6 were mid-career professionals (36-50 years old) and 4 were senior professionals (51 years and up). They came from around the world:
Asia: India, Malaysia, Pakistan, Singapore
Africa: Kenya, Nigeria, South Africa, Sudan
Europe: Italy, Lativia, Germany, Norway, Scotland, Spain, Switzerland, United Kingdom
Latin America and the Caribbean: Costa Rica
North America: Canada, United States
Oceania: Australia
When asked about their sector, 2 reported being in the private sector, 7 in civil society, 11 in academia (5 as faculty and 6 as students) and 4 as 'other.' Five reported working at the global level, 9 at the regional/international level, 6 at the national level, 2 at the local/sub-national level and 1 at the personal/interpersonal level.
In terms of work related to protected areas, 2 participants work in a specific protected area, 3 are members of communities living in or near a protected area, 6 work to support those in and around protected areas, 6 promote biocultural and biodiversity conservation through their work and 5 study the latter topics.
When asked about indigenous groups, 1 participant self-identified as being indigenous, 4 work directly with indigenous groups, 1 focuses on indigenous groups in their teaching and 2 focus their studies on indigenous groups. In addition, the remaining 15 participants support the rights of indigenous persons.
Finally, participants were asked why they chose to participate in the webinar. Responses can be grouped as follows:
10 to learn about the New Social Compact and IUCN
7 to interact with and learn from others in a global, intergenerational dialogue
6 to learn about and/or prepare for the World Parks Congress
3 passionate about nature and conservation
3 involved with and representing CEESP
Speaker Bios
Nigel Crawhall is Director of the Secretariat for the Indigenous Peoples of Africa Coordinating Committee, CEESP Steering Committee member and Co-Chair of the IUCN Theme on Indigenous Peoples, Local Communities, Equity and Protected Areas, which is organizing the New Social Compact process. Nigel holds a BA (Honors) in Political Science from McGill University, Canada, an MPhil from the University of Zimbabwe and a PhD in Historical Socio-linguistics of endangered !Ui languages from the University of Cape Town, South Africa. He has worked as a consulting advisor to UNESCO on cultural policies, intercultural dialogue, education for sustainable development and cultural landscape mapping and training. He is also serving as part of the international liaison team between faith-based civil society and the UNFCCC on climate advocacy issues.
Meher Noshirwani holds an MA in Sociology from the University of Essex, United Kingdom. As a Sociologist, she has worked in the field of women, development and environment for nearly 30 years. She is currently working as a Consultant and Researcher on gender and environment issues and is also the Technical Advisor to the Trust for Conservation of Coastal Resources. She is the Regional Vice Chair for Asia on the CEESP Steering Committee. Other responsibilities include: Board Member of the Hisaar Foundation, a foundation for water, food and livelihood security; Member of the Executive Committee of the IUCN's Pakistan National Committee; Adjunct Faculty in the Liberal Arts Programme at the Indus Valley School of Art and Architecture in Karachi.
Video Recordings of Our Speakers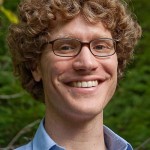 Dominic Stucker, Senior Associate, Sustainability Leaders Network, USA / Germany
Opening and Introduction from minute 35:00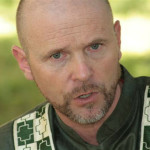 Nigel Crawhall, Secretariat for Indigenous Peoples of Africa, South Africa
Overview of the New Social Compact from minute 59:00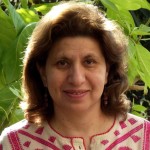 Meher Noshirwani, Trust for Conservation of Coastal Areas, Pakistan
Gender and the New Social Compact: Lessons from Pakistan from minute 1:10:30
Break-out Group Discussions
Since the New Social Compact dialogues at the World Parks Congress are organized according to the Congress Streams, our break-out discussion groups were organized in the same way. Facilitators pre-selected these three Streams for in-depth discussion:
Stream 2 "Responding to Climate Change" facilitated by Catie Burlando and Shalini Dhyani
Stream 5 "Development and Extraction" facilitated by Caroline Seagle
Stream 6 "Governance, Equity, Rights" facilitated by Melanie Zurba
Each participant selected to join one of the above groups and engaged in an interactive, online discussion on a set of discussion questions. These were similar in structure but not necessarily in content and are summarized in video and written form below. Fayruz Mandil and Andrea Zubialde were prepared to facilitate French and Spanish-speaking break-out groups, but no participants opted for this opportunity.
Download the summary notes for all groups here:
View video clips of discussion group reports here:
Continuing the Discussion
Participants and those who could not attend are encouraged to  continue the discussion on our iAct Dialogues for Sustainability Facebook group. We encourage you to join the group to learn about future webinars.
Webinar Feedback
At the end of the webinar, participants were asked to respond to the following poll questions on a scale of 1-6, with 1 being "poor" and 6 being "excellent."
How good was your Internet connection? 19% responded with 6, 62% with 5 and 19% with 4
What did you think of the content provided by the speakers? 30% with 6, 54% with 5, and 16% with 4
What did you think of the content provided by participants in your break-out group? 29% with 6, 57% with 5, 7% with 4, 7% with 3
How was your experience of the break-out groups? 20% with 6, 67% with 5, 13% with 4
What did you think of the interactivity of this platform? 47% with 6, 33% with 5, 20% with 4
Of special interest to organizers is that participants learned about the webinar in the following ways:
7 personal invitation
3 Facebook post
2 IUCN Commission young professionals network
2 IUCN Commission listserv
1 No Walls Campaign
1 Sustainability Leaders Network website
Others on the iAct Working Group
Initiate Your Own iAct Dialogue for Sustainability
Learn more about initiating a webinar with us!

Previous Post | Next Post